PIB Insurance Brokers form a partnership with the Police Digital Security Centre (PDSC) to support businesses with their cyber security
Investing in cyber security has never been more important, with almost half of all UK businesses having suffered at least one cyber attack or breach within the last 12 months.¹
Fake emails and text messages asking people to click on links and criminals mimicking Government agencies offering refunds, loans and financial assistance to small businesses are just some of the examples used by criminals to commit fraud.
That's why we have teamed up with the Police Digital Security Centre to offer clients that take out a cyber insurance policy FREE* access to Digitally Aware Certification.

What Is Digitally Aware?
Digitally Aware is a simple online assessment tool which will help test the resilience of businesses to the most common types of cyber crime. Based on the National Cyber Security Centre's Small Business Guide, and developed in collaboration with BSI (the British Standards Institution), Digitally Aware is an entry-level certificate aimed at organisations with the lowest exposure of risk to cyber crime and recognises those businesses who have made the first step towards better cyber security.
Already have a cyber policy?
If you already have a cyber policy or you're not ready to take one out just yet, we have also teamed up with PDSC to offer access to the platform at a huge 50% discount for just £25 + VAT, please visit PDSC's Cyber Security Self-certification Platform.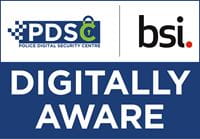 * Free access to the Digitally Aware certification available for organisations which arrange a new Cyber insurance policy with PIB Insurance Brokers. Discounted rate of £25 + VAT available to all organisations through pib-insurance.com/digitally-aware (normal price £50 + vat). Digitally Aware certification is valid for 12 months from date of issue, promotional rates valid only on the initial certification of an organisation and not on subsequent renewals. This offer is valid until 31st December 2021.
For further information on cyber security visit:
National Cyber Security Centre's Small Business Guide
BSI - the British Standards Institution
Source - ¹ Cyber Security Breaches Survey 2020
Browse our complete service offering
Business Insurance

From caravan parks to schools, we use our niche expertise to help businesses big and small






Private Client Insurance

From home and motor, to boat and art; browse through our different types of insurance cover


Employee Benefits

The right benefits can make all the difference to your team, keeping them engaged and happy to work for you



Risk Management

All businesses face risks. What's important is how you deal with them.  But you're not alone